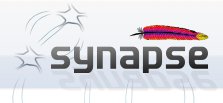 The
Apache Synapse
team reached a very important milestone last week. After a long but very busy 2 and half years, we announced the general availability of Apache Synapse version 2.0. The previous release of Synapse was version 1.2 which was released way back in year 2008. The Apache Synapse project has grown a lot in terms of code, features and community over the past 2 years and therefore you will find a horde of new features, improvements, bug fixes and samples in the latest release. Some of the noteworthy new features in this release are:
New, fine-grained configuration model
Hot deployment and hot update support for configuration artifacts
Priority based mediation support
Comprehensive eventing capabilities with WS-Eventing support
Secure vault for encrypting passwords in configuration files
File locking support in the VFS transport for concurrent polling
URLRewrite mediator for fast and simple URL rewriting
Synapse configuration observer API
Multiple identity support in the HTTPS transport
Enhanced JMX monitoring support for the NHTTP transport
Dead letter channel implementation (experimental)
Synapse XAR Maven plug-in for generating configuration artifacts
Apache Synapse is a lightweight Enterprise Service Bus (ESB) released under the
Apache Software License
. It is based on the tried and tested
Apache Axis2
SOAP engine. It has excellent support for SOAP, REST, POX, JSON and a variety of wire level transports (HTTP/S, JMS, File transport, FIX...). The non-blocking HTTP transport of Synapse enables it to handle very high volumes of HTTP traffic over thousands of concurrent connections.
Apache Synapse also supports many WS-* standards including WS-Security, WS-ReliableMessaging, and WS-Policy. It can be easily linked up with any SOA registry for metadata management and governance purposes. Synapse has a very flexible configuration model built into it, which makes it one of the easiest ESB applications to learn and adopt.
If you are involved in any SOA projects or system integration activities, Synapse may have something to offer. So please feel free to grab the binary distro and take it for a spin. Feed back welcome on
Synapse user list
.